×
Bus traffic on Elm Street
In this video shared by Mark Levack, a bus, attempting to move for another bus, bumps a pickup truck that is attempting to move out of the way. (Credit: Mark Levack; shared with FoothillsBusinessDaily.com)
×
(Credit: Gordon Woodworth, 2022)
A Greyhound bus and a delivery truck share Elm Street. The Trailways Bus terminal building is in the back, at left. Trailways owns the building, so Greyhound cannot use the parking lot and instead loads and unloads on Elm Street. Glens Falls officials are looking to move the bus terminal and have installed "No Parking" signs on Elm Street.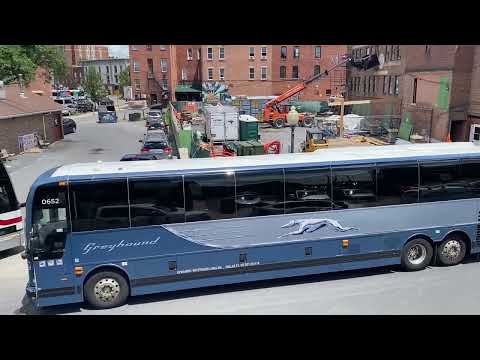 After several close calls with buses loading and unloading in a narrow section of Elm Street, the City of Glens Falls has installed five "No Parking or Standing" signs just east of the Trailways bus terminal at the intersection of Elm Street and Hudson Avenue.
"We had many people complaining about safety on that street," Mayor Bill Collins told FoothillsBusinessDaily.com. "We brought it to the Board of Public Safety, and they agreed, so we changed the law."
"We will be enforcing the new law," Collins added.
Two of those complaining were Elizabeth Miller, who owns and is redeveloping a number of properties on nearby Park Street, and Mark Levack, owner of Levack Real Estate, whose second-floor office has a birds-eye view of Elm from 33 Park St. He regularly sent photos and videos to the Mayor.
Levack said he's seen gridlock and accidents as buses unloaded on the street.
"This situation will likely persist even with the new signs there. That lot is too small for a bus station. The City needs to focus on the issue," Levack said.
The bus terminal lot that Levack referred to is the small lot next to the terminal building at the corner of Hudson Avenue and Elm Street. The building is also home to Empire Pizza and the parking lot is shared with cars. 
Although it is a Trailways terminal, "Greyhound continues to pull up, which is a problem," Collins said. Trailways and Greyhound are no longer affiliated. 
The City is addressing that issue, the mayor said, as economic development director Jeff Flagg is working with Greyhound to find another location. 
Levack thanked Collins for addressing the problem, and regularly sends him photos and videos, as he did Monday morning when this reporter was in his office.
"The signs are a good first step, but clearly they haven't fixed the problem," Levack said.
The mayor met recently with two Adirondack Trailways executives, who he said "want to work with us. They said they will look at other sites."
Mayor Collins said Trailways "told me they would love to sell the building, but they've been in business 60 years there, and they won't sell it until they find another place."
If and when that happens, they will have a willing buyer in Miller, who told FoothillsBusinessDaily.com that she has offered Trailways "substantially more than the appraised value of that property. I never got a response…It's not an appropriate place for a bus station, in my opinion.
"The other day there were four buses on Elm Street. It was ridiculous. I don't see why it's so difficult to see that it's not the best spot for a bus station," she said.
Both Miller and Levack believe Trailways should look at property off Exits 18 or 19, making it easy for buses to get on and off the Northway.
Flagg said he continues to work with both Trailways and Greyhound to find another location.
Trailways representatives Anne Noonan, VP of Marketing & Traffic, and Nicholas Crist, VP of Operations and Safety, did not respond to repeated requests for comment.